The Forehand & Backhand 1/2 Volleys
Just imagine this...
It's finally match point as you step up to serve at 40-15.

Discover how to play your
half volleys like this...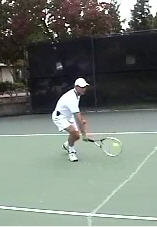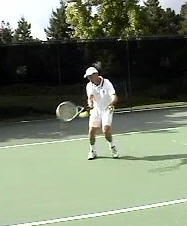 The "3 Magic Moves" of
The Forehand & Backhand
Half Volleys
taught by Brent Abel
You know you've got two chances here to win the match, but for whatever reason, your opponent has been wreaking havoc with their return of serve from the ad court, so your time to close out this match is now...
You decide to spin your first serve into their body as you play a serve a volley and come out of your service motion moving quickly in towards the net.
But your opponent has anticipated your serve, has moved to their left, and just unloads on a big time nasty return straight down at your feet.
But this time it's not a problem as you calmly come out of your split step, place your racket face to receive their return as a half volley, and then simply allow their big return to get comfortably into your strike zone.
You don't force it, you just let your feet play through the 1/2 volley and bang, your 1/2 volley is rifling past your stunned opponent.
You're already up at net as your opponent trots up there to shake hands and says, "When and how did you learn that 1/2 volley. I want it..."!
You can happen this happen...
This is a detailed 14 video lesson that takes you through each and every fundamental of the 1/2 volley so you're very clear as to how to execute this shot with supreme confidence.
Both forehand and backhand 1/2 volleys.
The 1/2 volley is absolutely necessary if you ever want to venture up to net in singles and imperative for doubles.
Staying on balance when you transition to net will determine your success with your transitional shot and your next volley or overhead.
If you know how to handle 1/2 volleys with confidence, your singles and doubles will improve immensely.
Shipping: Price for versions #1 & #2 includes shipping and there are no additional shipping fees to anywhere in the world.
Guarantee: 100% tennis player product satisfaction.
Version #1: DVD & Immediate Online Access
$37
Version #2: Computer Video CD & Immediate Online Access
$37
Version #3: Download Only (No Disc )
$27
You get immediate access to the files that play the instructional video lessons on your computer's.

You may download the video lessons to your computer.

Requires a high speed internet connection (DSL, Cable, or faster)
Claim your copy now with Credit Card or PayPal
---
Have a Question?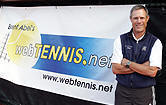 Click the Live Help button
to see if Brent is available to answer your question.