Return of Serve
Just imagine...
You've been working the match to this point all afternoon. It's now match point for you as your opponent serves at 30-40.
You've been close in other matches before with this player, but your return of serve has not handled the big 1st serve or the spin 2nd
Discover how to play your return of serve like this...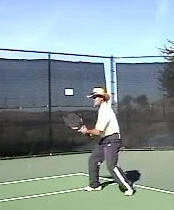 The "3 Magic Moves"
of The Tennis Return of Serve
by Brent Abel
serve well enough to really challenge.
But that's past history...
The toss goes up, the big 1st serve is crushed to your backhand side, you calmly and quickly turn your shoulders to react, and then simply "wait" for that big serve to come into your strike zone.
And in a nano-second your return of serve is nailed back cross court past your opponent.
You humbly trot up to net, shake hands, and start to feel a little sorry for your opponent as they stand there muttering, "What was that..."?
You can make this happen...
This is a 2 video lesson that pinpoints the precise mechanics needed to consistently return 1st and 2nd serves for both singles and doubles.
Become consistent returning those huge power serves
and those weak little 2nd serves
This is one of the lessons in the "3 Magic Moves" series and you'll come away with a complete understanding of the 3 simple to learn mechanics that can take your return of serve skills to a new level.
How to handle serve and volley players
in both singles and doubles
Good doubles players are known for their ability to consistently return serve in a way that enables their net partner to have an opportunity to poach, fake poach, etc. and control the point because of your consistently good returns of serve.
Discover the simple technique to return 2nd serves
as approach shots (that's right, chip / drive & charge) and
put a tremendous amount of pressure on the server.
Choose the version you want
Download Only version
$27
Version #2: Computer Video CD & Immediate Online Access
$37
Version #3: DVD & Immediate Online Access
$37