Two-Handed Backhand Drive Topspin Groundstroke
Andre Agassi and Marat Safin are the Learning Models
Imagine...
Your opponent has just played a nasty deep underspin approach shot to your backhand side and they are moving in towards a good net position to put pressure on you to come up with a great shot...

Discover how to play your two-handed backhand like Andre's...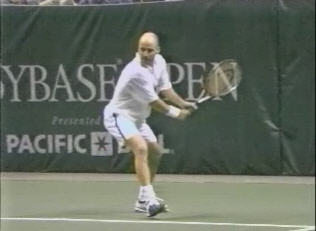 The "3 Magic Moves"
of The Two-Handed Backhand Topspin Drive Groundstroke
taught by Brent Abel
You calmly switch your grip to a nice clean two-handed backhand grip (that's right, your top hand is set in an eastern forehand grip and your bottom hand is set in either an eastern backhand or continental grip).
This ideal two-handed backhand grip sets your racket in the perfect angle to impart enough topspin to help your shot have a little "dip" as it crosses the net, but not so much that it takes away from your power.
You step forward to meet the ball early so your opponent has less time to close the net and to give you a bigger open space target.
You wait for just the right moment, you don't rush, and then you release your swing that feels effortless as you keep your eyes down at your point of contact until you feel the swing finish.
As the ball leaves your racket, you "feel" the exact direction and speed of your shot without the need to actually "see" it, and you then look up to see your shot going past your opponent as they lunge off balance.
You can make this happen...
How you can easily copy and model
these simple but powerful backhands
demonstrated by Agassi and Safin
Nothing but pure fundamentals...! These two great players are incredible models for us to learn the two-handed backhand.
You'll easily and quickly learn:
The Ready Position

The Grips for both hands

The Turn with the shoulders

The racket's "Set" Position

The Swing Shape prior to contact

The Contact Point

The Extension through contact

The Finish Position
This lesson consists of two videos produced by Brent that detail Andre's backhand and then a side by side comparison of Andre's and Marat's two-handed backhands.
This instructional product comes in two formats:
Download / webpage access only OR

Download / webpage access and a Computer Video CD will be mailed to you.

You don't have to download anything if you order the CD.
You'll immediately get access the download / webpage for the videos and BONUS materials.
Yes, BONUSES...!
BONUSES...!
Specific Match Warm-Up Routine:

Three additional audio files that will play in your car, a great tool for getting you ready for a match, where I take you through the specific routine of how to warm up for a match.

Minute by minute, what you should do when you first walk out on the court, and what you should do specifically each minute to enable yourself to play to the best of your abilities on that particular day...


Audio lesson by me of what to be thinking and focusing on during each of your strokes

Audio interview with Pat Blaskower, author of "The Art of Doubles", on what her players' specific routine is during their 5-10 minute warm-up.

Audio interview with tennis professional Alan Margot, highly successful league team coach, on a specific routine and how to have some fun with it...!
And as with all of my lesson products, you'll receive a 100% money back lifetime satisfaction guarantee.
PLUS, unlimited email and 1 hour of telephone support for free (a $100 value).
That's $178 in BONUS values...!
Version #1: Computer Video CD & Immediate Online Access
$39
Version #2: Download Only (No Computer Video CD )
$29
You get immediate access to the files that play the instructional video lessons on your computer's.

You may download the video lessons to your computer.

Requires a high speed internet connection (DSL, Cable, or faster)
Claim your copy now with Credit Card or PayPal