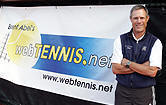 Get Signed Up Now for Brent's FREE Video Tips Series on Strokes & Strategies...
PLUS FREE Video Blog
Update Notices
Click here
Thanks and looking forward
to helping you...
Brent
---
Brent's Tennis Instructional DVDs, CDs, and Downloads
Click here
PLUS, Tennis Injury Treatment DVDs, CDs, and Downloads
Click here
---
WebTennis.net
Referral Program
---
Brent Abel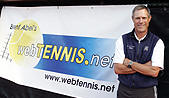 ---
Hi, Brent Abel here and many thanks for visiting WebTennis.net. This website is dedicated to only one aspect of tennis, and that's to promote the "all-court" style of court positioning, strategies, and stroke mechanics.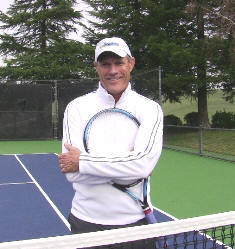 Seriously, if "Tennis is the Sport for a Lifetime", then extreme grips and swing shapes can only bring on potential disaster for your body parts and your brain! Make sure you give yourself the chance to be an all-court player (that's right, even a good doubles player!) by using these stroke mechanics and strategies. You'll have so much more fun with this great game...
Until I went full time with WebTennis.net in October 2005, I was the Tennis Director and Head Professional of the California Tennis Club in San Francisco, CA. The Cal Club has been around since 1884, making it the oldest tennis club west of the Mississippi. The CTC has ten outdoor courts located in lower Pacific Heights, a ton of history, some great traditions, and a long line of tennis professionals who have all embraced a certain style of play.
I had my first tennis teaching job in 1966 working for John Gardiner's Tennis Ranch in Carmel Valley, CA...
I really enjoy playing tournaments. My time is somewhat limited with a full time job here at WebTennis.net and the three greatest kids ever, but I try to play one national event and a few local tournaments every year.
Competitive Player

1984 USTA National 35s Doubles Hardcourts Champion
1987 California State 35s Singles and Mixed Doubles Champion
2000 USTA National 50s Hardcourts 3rd place in singles, doubles, and mixed
2001 USTA National 50s Hardcourts Finalist (2nd) in singles
2002 USTA National 50s Hardcourts 3rd place in doubles
Numerous northern California Men's Open and Senior singles and doubles titles since 1979
2005 Quarterfinalist (defeated the #5 seed 6-0, 6-0) National 55 Indoors in singles
2005 Pacific Coast Seniors Doubles 55s Champion
2006 Pacific Coast Seniors Doubles 55s Champion
2008 Babolat Palm Springs Doubles 60s Champion
2008 Babolat Palm Springs Doubles 55s Finals (Rained Out)
2008 National Doubles 55s Indoors 3rd Place Bronze Ball
2008 National 60s Singles Hardcourts Quarters
2008 National 60s Doubles Hardcourts Semis
2008 Marin 60s Singles Champion
2008 National 60s Indoors 3rd Place Bronze Ball
2008 National 60s Indoors Doubles Quarters
2009 National 60s Hardcourt Singles Champion
2009 National 60s Hardcourt Doubles Semis
2009 Pacific Coast 60s Singles Champion
2009 Pacific Coast 60s Doubles Finals (Rained Out)
2009 Marin 60s Singles Champion
2009 Marin 60s Doubles Champion
2009 World Team Matches - USA VonCramm Cup Team Member - Silver Medalists - Perth Australia
2009 World Individual Tournament - 60s Doubles Bronze Medal - Perth Australia

Teaching Professional

John Gardiner's Tennis Ranch, Carmel Valley, CA
Dennis vanderMeer - Berkeley Tennis Club, CA
Barry MacKay Sports, Bear Valley & Pajaro Dunes, CA
Pierre Barthes, Cap d'Agde, France
Stonebridge CC, Memphis, TN
Donna Floyd Fales, Key Biscayne, FL
Moraga CC, Moraga, CA
Tiburon Peninsula Club, Tiburon, CA
California Tennis Club, San Francisco, CA
I'm a serve and volley player, and there isn't a shot hit to me that I don't consider as an approach shot opportunity!
I grew up across the San Francisco Bay in Berkeley playing tennis at the Berkeley Tennis Club. I had the good fortune of seeing some of the game's great players each Fall at the Pacific Coast Championships at the BTC. From the early 1950s for 20 years, we had all of the best men's and women's players come and play the tournament and stay in our homes. As they say, "those were the days"!
If you remember the names Maria Bueno and Darlene Hard, they stayed at our home during the Pacific Coast tournament for many years. Having the # 1 player in the world staying at your house during a tournament, well, those days are long gone...
I had my first teaching job as a summer camp junior counselor at John Gardiner's Tennis Ranch in Carmel Valley, CA in 1966. From there, tennis has taken me to teaching jobs in France, Memphis, Key Biscayne, and other clubs in California. I've pretty much taught tennis non stop since 1970. I worked in the real estate development business in the 1980s, however, I continued to teach on a private court on a part time basis. I've taught with Barry MacKay, Donna Floyd Fales, Dennis VanderMeer, and other top players and coaches. Needless to say, I've been incredibly lucky to have been in the right place at the right time to have been able to work with these folks.
But the one person who really made a dramatic impact on my tennis was Tom Stow. Tom was not well known outside of northern California, but this guy knew more about how to hit the ball and play the game than anyone I've ever met. Tom coached some of the game's great players such as Don Budge (Grand Slam 1938), Sarah Palfrey Cooke, Elwood Cooke, Jim McManus, Bill Crosby, Cliff Mayne, Hugh Ditzler, Doug King, Steve Stefanki, Steve Cornell, Pixie Lamm, and many other top players. In fact, Tom himself was a fine player as he won the 1926 NCAA Doubles title with Bud Chandler while attending the University of California.
I knew Tom when he was the Head Pro and Manager at the Berkeley Tennis Club when I was a kid. But I didn't get on the court with him until much later in 1979. At the time I was a pure hack with absolutely no clue of how to really hit the ball and play. With a flick forehand, a chop backhand, a serve that was so sliced that it made no sound, and the flattest volleys ever hit, I was just pathetic...! He gave me two years until his health took a turn for the worse. Tom presented the game to me in a light that I'd just never considered before. Needless to say, Tom gave me the success I've enjoyed as a player and a teacher. Within 5 years of seeing him, I'd won a national championship. I was lucky to have known him.
This stuff works and you can learn it, even if you're not the most athletic guy or gal on the block or if you don't have 5 hours a day seven days a week to devote to getting better. The heavy top-spinners grinding from the baseline are easy pickings in tournaments and eventually their arms are either going to fall off or their brains will just blow up from the boredom and frustration of being so one-dimensional. As we get older, we play more doubles than we did when we were younger. Players with extreme grips who mostly play singles from behind the baseline normally make pretty pathetic doubles players. Don't let yourself do it, get on the right track with strokes you can use forever and give yourself a game for a lifetime... tennis.
Thanks for listening... Brent
Please feel free to contact me at brent@webtennis.net or the WebTennis.net office at 925-246-5551. I'm always open to new suggestions and ideas for this site and it's newsletter.
And I couldn't let you leave without meeting my pride and joy...!